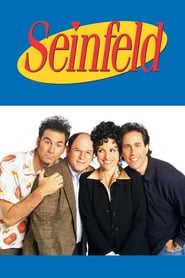 Watch Seinfeld Season 8 Episode 20 Online Free
Watch Seinfeld Season 8 Episode 20 Online Full 123Movies Free.
Elaine gets bad service at a clothing store, so she begins shopping at another similar store. Jerry notices that he is on his girlfriend's speed dial. Kramer plans for his millennium New Year's Eve party two years in advance and he has some strange ideas about what life in that year will be like. George is "offered" a position as director of scouting by the Mets. To get the position he must be fired by the Yankees. Elaine flaunts her purchases in front of the store. Jerry obsesses about his position on the speed dial and then he makes it to number 1. Kramer discovers that Newman is planning his own millennium party. George tries to make a big exit from the Yankees organization; however, all his attempts make him look better in the organization. The step-mother of Jerry's girlfriend's confronts him over his #1 position on the speed dial. Newman compromises with Kramer about their respective parties, they will be combined; however, he only has one condition, the next century must be "Jerry free." Elaine discovers the clothing store she began frequenting is owned by the same woman who didn't help her at the other store. Kramer reluctantly agrees but then has misgivings and gets Elaine to come back to his party. Elaine plans her revenge on the store with Kramer's help. Jerry gets caught in the middle of a speed dial war between his girlfriend and step-mother.
Episode Title: The Millennium
Air Date: 1997-05-01
Year: 1997